By

Ha Van Dong
Posted in New
On November 21, 2019
Comments Off

on IOTransfer 4, A Simple Tool to Transfer Files to iPhone, iPad and more
iOS is probably the best mobile operating system as far as fluidity, responsiveness and ease of use are concerned, but there is no question about the presence of compromises on usability. At the behest of Steve Jobs, the Cupertino mobile operating system was born with some limitations that it brings with it after so many generations. Among these, file management: to simplify the use of terminals and increase security, apps cannot exchange data and live enclosed in impassable sandboxes. But thanks to apps like IOTransfer 4, exchanging files between iPhone / iPad / iPod and PC is now much easier.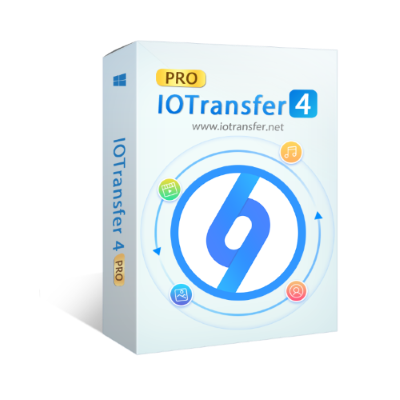 IOTransfer 4 is a simple and effective app for transferring files between PCs and iPhones, iPads and iPods, and even more. Among the features of the software we also mention those typical of a tool for managing device files, and there are features for converting and downloading online videos for free. In the app we also find a one-click solution to easily transfer photos, music, videos and contacts from an iOS device to the PC. It is also a handy help to import, export, or delete different types of content, such as iBooks, Podcasts, Voice Messages, and even applications installed on the device.
The application wants to be configured as an alternative to iTunes, and also to provide accessory features that can be useful. To mention the possibility of downloading videos from various online services, both directly on the mobile device and on the PC, in order to reproduce them even when you do not have access to an internet connection. There is also the "Clean" feature, which allows you to delete cache files or useless files in order to free up space on it. We also mention Air-Trans, one of the most interesting features that allow files to be transferred between devices using Wi-Fi Direct technology.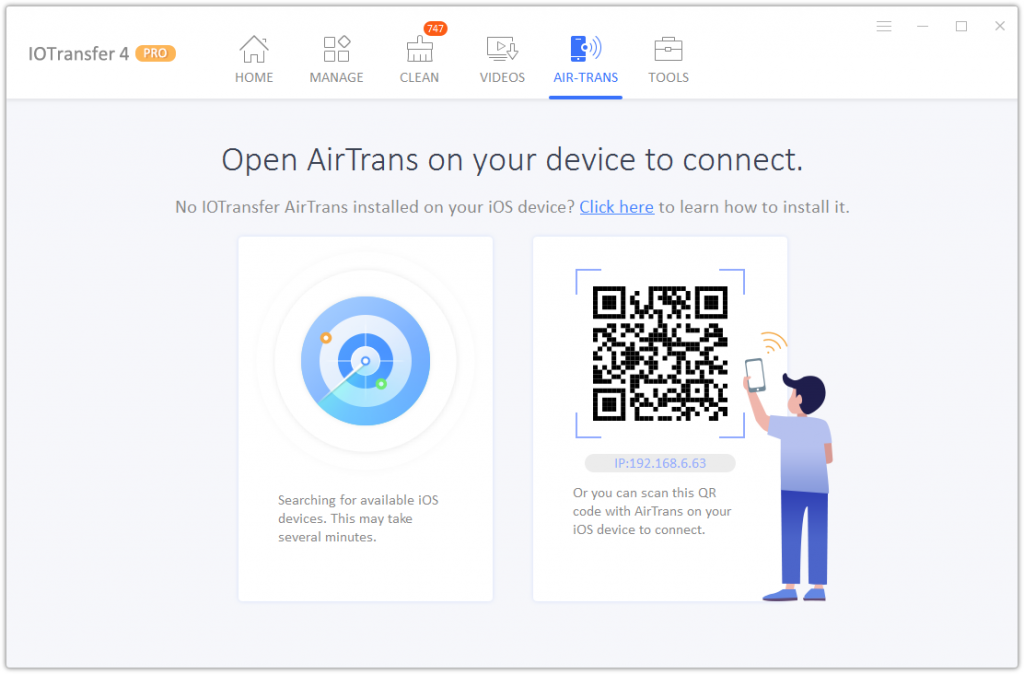 In this way it is possible to exchange files, such as photos, videos, and other types, between iOS devices and PCs that are on the same Wi-Fi network, thus without having to connect the terminals via cable. Among the innovations we also find Converter, which converts videos in a simple way (even in audio) so that they can be played without problems on iOS. IOTransfer 4 also introduces a new user interface that is simpler and more intuitive than previous versions, opening up to a greater number of users. Among the conversion tools we also mention the possibility of converting from HEIC to JPG (HEIC is a new Apple format).
Finally, IOTransfer 4 is available in a PRO version in a completely free form. Here are the outstanding features on the latest version:
Transfer & Manage – You can now transfer and manage photos, music, videos, contacts directly from your PC.
AirTrans Transfer – Wirelessly and freely transfer photos, music, videos between the iOS device and the computer.
Video Downloader – Download videos online from the most popular internet services, such as YouTube, Twitch and Instagram with this unblocked video downloader.
Video Converter – Convert videos to various file formats, such as MP4, MP3, AVI, MKV, MOV, and transfer them directly to the iDevice.
Junk File Cleaner – With a 1-click interface, you can delete all unnecessary caches and files on your iOS device and free up storage space.
More Useful but Free Features – This version brings more useful but totally free tools such as Instagram downloader, GIF maker, iCloud photo manager, and similar photo cleaner.
User-Friendly Interface – Compared to the past, the interface has been improved so that the different operations are performed more simply.
Support for 14 languages
That's things you may want to know about IOTransfer 4. If you also into it like me, you can get it from its official site. It won't let you down.