By

Ha Van Dong
On December 4, 2017
Comments Off

on Top 10 LED Grow Lights for Growing Cannabis
Growing Marijuana is a pretty easy job if you have enough information and right equipment. For indoor growers, good lighting is very important. Even outdoor growers can benefit from artificial lighting during the winter season. As currently, LEDs are the latest and most advanced technology in grow lighting. In the long run, LED lights can save you a lot of money and time. Previously, HID or HPS lightings were used to grow weeds indoor, but it uses a lot of electricity. LEDs are very efficient and use half of the electricity of HID/HPS. Here are the best LED Grow lights for growing Cannabis.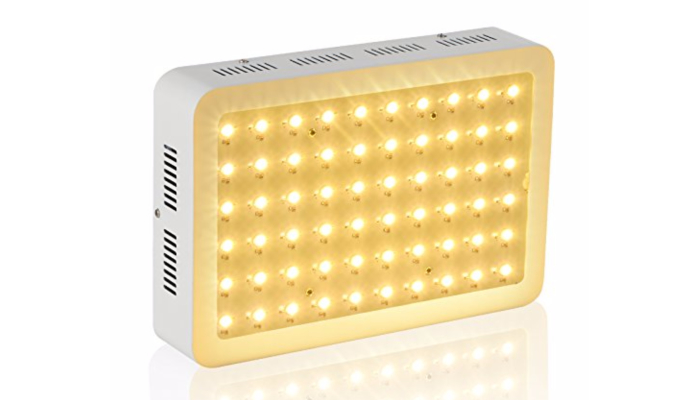 Morsen LED Grow Lights
Morsen LED Grow Lights are known for their durable and high quality lights. You can get the budget friendly Morsen LED grow lights under $200. Their range in wattage is from 600W to 1600W.
Pros:
Full Spectrum LEDs.
Individual 10W LEDs for high output.
Cons:
Pretty large to handle.
Small size not available for small growing operations.
Galaxyhydro 300W LED Grow Light
300W LED Grow Lights from Galaxyhydro are the perfect lights for small or medium growing operations. These are available at very low rates. It comes with a two year warranty as well. Available at $79.99, along with free shipping.
Pros:
2 year warranty.
Best Seller.
Cons:
Not suitable for large grow operations.
No reflector.
Galaxyhydro 81W Grow Light Bar
Another LED grow light from Galaxyhydro. This one is in the form of a bar, which makes it a good supplemental light for large growing operations. 81W grow light bar is available at a very cheap price of $44.99 along with free shipping.
Pros:
180° rotatable brackets.
Very efficient.
Cons:
Not very powerful.
No warranty.
Apollo Horticulture GL-Series 180W LED Grow Light
Apollo sells grow lights of all sizes. You can get Apollo grow LEDs from 75W to 1200W range. The 180W grow light is the best one, which is very powerful. It is a UFO light. There is a built in fan for ventilation. Available at $123.43 with free shipping.
Pros:
Built-in Fan.
Two year warranty.
Cons:
Slow shipping.
No full spectrum.
LVJING 10W Grow Light Bars Light Strip
Light Strips are great for Do-It-Yourself (DIY) marijuana growers. These can be used for small indoor growing operations, and these are available at very cheap prices. The red and blue lights work great for optimal growth.
Pros:
Available at $11.99 only.
Easy to move, remove and add lights.
Cons:
Low power.
Power supply sold separately.
TaoTronics LED Plant Grow Light
This is a single bulb from TaoTronics. It is a best seller and works well on a single plant. With over 12 small LED's, this bulb offers a broad spectrum of red and blue lighting. Available at $20 only.
Pros:
No different socket required.
One year warranty.
Cons:
Not very powerful.
Limited warranty.
BLOOMSPECT 300W LED Grow Light
Bloomspect is not a very old brand, but have received a great response from growers. This 400W light is available at half the price of other expensive lights. Built-in reflectors for individual LEDs perform wonderfully.
Pros:
Available at $66 only.
Three year warranty.
Cons:
Only few sizes available.
A new brand, with less experience.
Solarxia Dual Head LED Grow Light Lamp 18W
This grow light lamp from Solarxia is a great supplemental light for small grow operations. It has two separate bars which are movable and can be positioned in any way you want. Available at $24.99.
Pros:
Wide band spectrum.
Built in clip to hang.
Cons:
No warranty.
Less power output.
COB (Chip On Board) LED Grow Light
COB lights consist of a number of diodes, which are mounted on a single board of ceramic or copper. The diodes from a single module, and works like a single light. It offers full UV spectrum but looks only white to our eyes.
Pros:
Available at $16.99 per 50W kit.
Easy to use.
Cons:
No warranty.
No fan included.
HNHCLED 45W LED Grow Light Panel
A small panel of LEDs works great with small plants, clones, and seedlings. This light panel provides a wide range coverage than bulbs or bars. It has an aluminium casing, which eats up less energy.
Pros:
Available at $34.99 only.
Very light weight.
Cons:
Not very powerful.
No warranty.
If you have any questions about the LED Grow Lights and their functions, please comment below.
View detail: https://youtu.be/trMnGmCombk