By

Ha Van Dong
On June 2, 2018
Comments Off

on Classroom Management Software Helps Teachers Create a Better Learning Experience
Description:  Teaching in digital classrooms come with its own set of challenges and distractions. A robust Classroom management software can help modern educators effectively manage and control students' classroom activities helping them create a collaborative digital classroom environment.
Computer-aided learning serving as a robust tool for improving student participation in a classroom is one side of the coin. On the other side, it also provides students with ample opportunities to engage in disruptive online activities.
Using an effective classroom management software allows educators to keep students engaged in classroom activities by restricting their access to websites and applications that are not related to their curriculum. Leveraging robust student monitoring features of such classroom management solutions, teachers can get an accurate and encompassing view of all student devices in the class centrally without moving from their physical desk and control students' web activities anytime. A classroom management software also makes it easy for educators to track progress and provide daily learning goals to students, thus, significantly improving student behavior and performance in the long-run.
Foster a Collaborative Classroom Atmosphere for Enhanced Student Learning
An advanced classroom computer management software comes with a host of features that can simplify the teacher's job in a classroom helping them engage in effective teaching:
Offering Total Classroom Visibility
When students are provided access to technology in schools, there are possibilities that some of them would end up exploring it in ways which are not exactly appropriate for an educational setting. Gaming applications, instant messengers, social media, and irrelevant web surfing are few of the common distractions for students in a digital classroom. Without having the right tools in place, it can become increasingly difficult for teachers to monitor what each student is doing on their device during an ongoing lecture.
An effective classroom management software solution provides teachers with the ability to monitor students' screens in real-time from their own device. This eliminates the need for any manual monitoring or changing seating arrangements of students and saves valuable teaching time. If any student is found to be using technology inappropriately, teachers can immediately disable their keyboard and mouse activity. Features like blanking out screens and limited access to the web/applications also help teachers instantly notify students about their misconduct and redirect them back to the class. This enables teachers to continue with coursework uninterruptedly.
Absolute Control of the Entire Class
In a digital classroom, providing equal attention to all the student's needs and queries can be quite challenging. Teachers need to interact with all students and address their specific queries and pace the ongoing lecture accordingly. This process is not only time-intensive but also disrupts the flow of teaching and learning.
Class management software can enable teachers to take absolute control of the student device to help them with a problem/ query. For example, teachers can help a student open the correct website/ book page from their own desk. This also helps students to ask for help directly from their workstations during an ongoing class. Teachers can also choose to provide one-to-one assistance without disturbing the rest of the class. This not only helps teachers to gain the control of a digital classroom but also improves the overall learning experience.
Building an Interactive and Cooperative Learning Environment
Students learn better when they are encouraged to discuss the concepts of the subject being taught with each other and are involved in group activities for problem-solving and brainstorming. In other words, collaborative learning can instill a deeper understanding of the content in students which undoubtedly improves their retention ability.
With the group chatting feature of a classroom monitoring software, teachers can divide students into groups. Such activities are motivating for students allowing them to come up with collaborative solutions of the problems assigned by the teacher. This help students grow a sense of accountability and encourage them to be active listeners. Some classroom management software also provides teachers the ability to offer one-to-one assistance to introvert students through chatting features. Thus, teachers can modify the instructional strategies per the diverse needs of individual students and conduct the class in an effective way.
Increased Student Participation in the Class
With the screen sharing facility of a classroom monitoring software, teachers can choose to share their own screen with the rest of the class to provide them with a real-time learning experience. Teachers can also choose to broadcast any particular student's screen to the entire class if they have answered the correctly or came up with a creative solution.
This provides encouragement to the selected student to do better while creating a healthy competitive atmosphere in the classroom. Thus, a class management software also helps teachers keep students involved with the task at hand which results in increased student participation.
Controlling Students' Online Behavior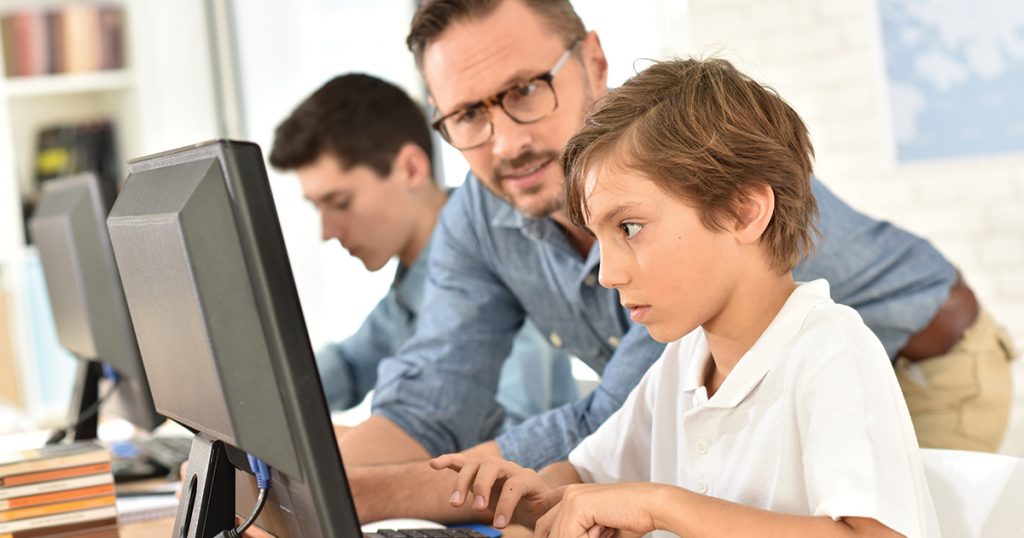 For effective classroom management, it is critical for teachers to have the ability to track as well as control the web/application usage by students. A classroom management software facilitates this by allowing teachers to specify the applications that can be accessed by students during an ongoing lecture. Educators can also limit students' ability to open/browse certain websites if those are found to be non-educational or inappropriate.
Students get a simplified and intuitive interface to work on which helps them to concentrate on the lesson and stay away from tempting distractions. By helping teachers monitor and regulate students' internet and application usage, a classroom computer management software also helps teachers to build a transparent and safe digital learning atmosphere for students.
Tracking Students' Progress
No two students learn at the same pace. Traditional assessment methods are time-consuming and provide very little scope for teachers to conduct remedial classes to improve students' performance. A robust classroom management software enables teachers to create quick tests and quizzes during the class by sharing multiple choice or open-ended questions with students. This helps teachers to review the extent to which students have understood the class content and modify their instructional strategies accordingly. The electronic grading feature of classroom management software solutions also allows teachers to share quick feedback with students and set realistic learning objectives.
A class computer management software can also help teachers to take assessments within a locked environment in which students' access to unauthorized applications/websites can be blocked. Teachers can also monitor each student's activity in real-time during exams which results in the accurate evaluation of student performance.
With the growing popularity of digitally-enabled classroom across multiple schools and colleges, the use of classroom management software solutions has gained immense prominence. Classroom monitoring software offers robust features and ease-of-use, aiding teachers to effectively monitor, manage, and support digital classrooms by minimizing distractions and foster enhanced student learning.