By

Ha Van Dong
On September 27, 2018
Comments Off

on Top 5 Industrial Website Designs Of 2018
The importance of having a modern and accessible website is no secret for industrial companies in 2018, but the industrial manufacturing website design remains a hot topic among industrial companies and website builders.
What should the ideal industrial website design include and look like? Find out right now!
Tips for creating manufacturing websites
If you look at the top 10 manufacturing websites with the best design, you will see that they all have some things in common. Here are five things that will significantly improve the design of your industrial website.
Keep the design of the website clean and easy to navigate. Like other types of websites, an industrial website needs to match the aesthetics of the industry it belongs to, which is why efficient navigation and clear design are a must.
Adapt your website for multiple platforms. In this day and age there is no excuse for not creating a mobile responsive website for your business. The industrial website you create must look equally well on desktop and mobile devices of all screen sizes.
In order to provide a satisfying experience to your website visitors, you need to know what they're looking for and how they behave once they're on your page. Use services like Hotjar to determine behavior patterns of your customers.
Use your industrial website to build trust between you and your potential clients by using testimonials and providing free topical content like infographics and industry tips. The last thing the visitors want to see is another website that is only trying to sell them products and services. Making sales while simultaneously building a trust-filled relationship with the audience should be your ultimate goal.

Target your ideal audience. You may dream about thousands of visitors rushing to your website to check out new products or read the latest blog post, but the truth is that most industrial websites belong in a niche, and knowing your niche and your target audience will yield better results than trying to attract a wide audience that has little to do with your field.
There are many web design agencies that promise to build the best service industry websites, but their services can often cost a fortune, especially if you have specific demands and extra features you want to see on your company website. That is why more and more industrial companies are using Weblium, an website builder where you get to take the best of both worlds: the affordability and practicality of an online site constructor and the personalized approach of a reputable web design agency.
Top 5 industrial website designs of 2018
Whether you already have the image of your ideal industrial business website, or you're only starting to plan your online presence, you'll definitely appreciate some industrial website design inspiration. Here are 5 best industrial website designs we've discovered this year.
1. Mitsubishi Heavy Industries
The Mitsubishi Heavy Industries website couldn't have been a more perfect online representation of the brand. The design of the website is clean and streamlined, with monochrome colours being used in every section of the website, and the prominent use of photography brings a personal touch to an otherwise strictly business design.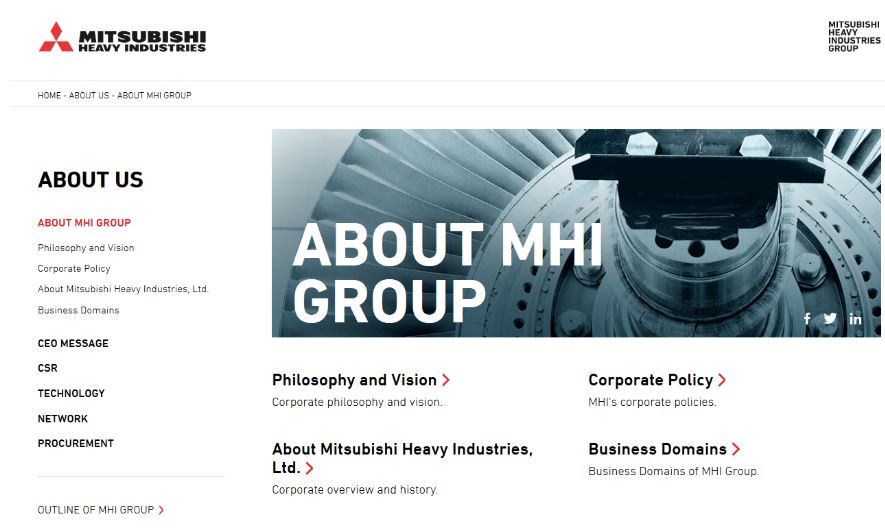 2. Hatch
When the concept of a business is as complex as creating custom Android devices, the best way to make the website user experience better is to explain in detail what the company does. Hatch realizes it too, which is why the central element of their website design is a video with glimpses of the production process.
3. IBM
IBM is a company that requires no introduction, so their website is more focused on what they have to offer than explaining who they are. With a mobile responsive design, drag and drop features, a clear site structure, and visible CTA in the lower part of the page, the IBM website is certainly a standout from the design point of view.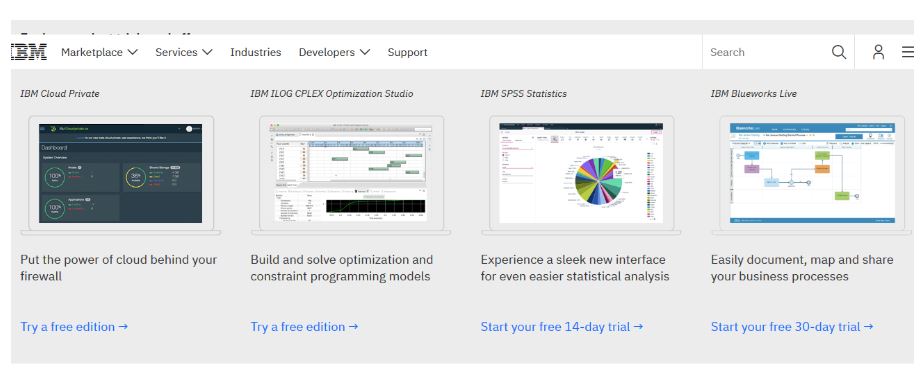 4. Schneider Electric
The Schneider Electric website can be used as a go-to example of an industrial website that doesn't have the objective to immediately sell your products, but is rather a way to help the customers find you faster, with services, contact information, and support center being displayed on the home page.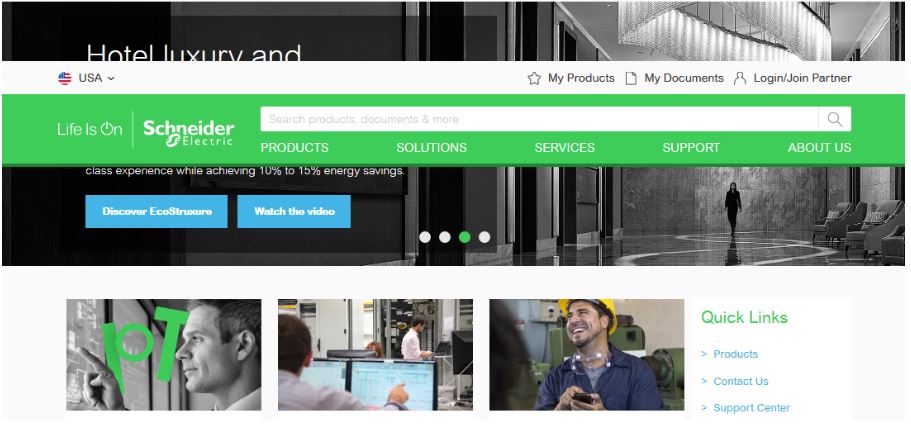 5. John Deere
For a company with an established name in the industry like John Deere, the website is an ideal way to showcase the products for a wider audience. Their Construction page, where you can see every piece of equipment produced by the brand, is the best introduction to a business there can be.