By

Ha Van Dong
Posted in Children
On October 26, 2019
Comments Off

on 5 Tips to Childproof a Swimming Pool Area at Your Home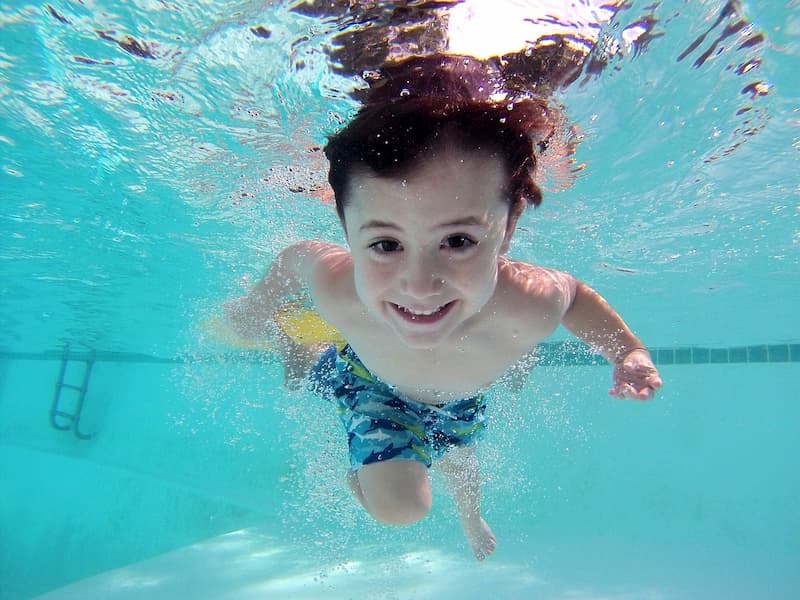 Image source: Pixabay
A swimming pool adds beauty and interest to a backyard as no other feature can. And swimming is healthy fun for young and old. But according to the U.S. Consumer Product Safety Commission's 2018 report, nearly 400 children under the age of 15 drown annually in pools and spas. Do not risk your child or the child of a friend adding to this heartbreaking statistic — childproof your swimming pool with one of these helpful tips.
1. Install Pool Safety Equipment
Swimming pools that are open to club members or the general public have one common feature: the lifeguard. No club—private or public—would ever think about leaving their swimming pool unattended. Likewise, don't ever believe that the safety equipment listed in this article is a substitute for adult supervision of the swimming pool area.  
Pool Fences with Gates 
A fence can be installed around the perimeter of the pool. The fence can be either stationary or removable. If you have no children at home and your backyard is secured, portable fencing can installed for use when you have little swimmers around. The fence has to be between 48" and 60" high. It should have no open space greater than four inches. Make sure the fence can't be climbed over by children.
Permanent fencing can be made from vinyl, metal, wood, or glass (in combination with wood or metal). These real-life photos of various safety fence types found on Precious Baby Protectors, Houston child-proofing equipment provider, can help you get a better understanding of what they look like. Make sure the fence has a lockable gate access point. 
Pool Covers and Nets 
If you find pool fences unattractive or impractical, you can protect children with pool nets or covers. Nets and covers can both be secured by attaching to flush-mounted hardware installed around the pool. Nothing protrudes from the surface of the pool deck with this type of hardware.
While pool covers are cumbersome and heavy, they offer the best protection. They also keep debris from getting into the water. Covers don't require special skills to get installed. Their types and installation process is explained by the Pool Guard Texas, another Houston pool safety equipment company. Pool nets are less cumbersome than are covers and are more easily stored.
Pool Alarms 
Installing a pool alarm is an inexpensive way to protect children. An alarm can be purchased for less than $200. But pool alarms do not childproof a pool. They do not prevent children from unauthorized pool entry. At best, they can only warn you when someone is in the water. Because they are activated by motion in the water, any continuous water flowing in your pool could sound the alarm.
Door Alarms 
If you have a home security system, you may be able to program any door leading to the pool area to sound a chime when that door is opened. Otherwise, an alarm that attaches to a door or a gate is inexpensive and can alert you when an unauthorized person enters the pool area. As with pool alarms, door alarms only alert you after the fact that someone has entered.
2. Check Pool Drain Covers 
In 2002, Virginia Graeme Baker drowned when the suction from a spa drain held her underwater. Despite being a strong swimmer, the 7-year old could not free herself from the suction of the drain. The two men who eventually freed her had to pull so hard that the drain cover broke under the pressure. 
The VGB Pool and Spa Safety Act of 2007 mandated standards for drain covers in public schools and some local jurisdictions. Make sure your drain cover is compliant with VGB standards that can be found on PoolSafety.gov.
3. Upkeep the Pool Safely
A slippery pool deck is a severe safety hazard. Coat any slick surfaces with a non-slip surfacing material. If you have an above-ground pool, make sure to remove the ladder when the pool is not in use. If you have a safety pool ladder for your above-ground pool, lock it when not in use.
Ground fault circuit interrupters should be installed on any circuits where outlets near the pool could potentially be utilized.
Keep the pool deck free from clutter—especially anything made with glass.
Keep pool chemicals locked away from children.
4. Ensure the Territory is Well-Lit 
Make sure your pool area is well-lit. While small children don't normally play outside after dark, don't risk a curious child falling into the pool because they couldn't see where they were going. More likely, a neighbor or a stranger who has had a little bit too much to drink could stumble across your backyard and accidently fall into the pool. 
Make sure that the lighting is on uninterrupted during the hours of darkness. Consider installing underwater LED lights from Bright Lightz that not only look appealing but also create a soft, unobtrusive glow, that keeps the water area visible at all times. LEDs can also be used to illuminate walkways leading to the pool. These and other tips on pool lighting are shared in the helpful article on YouthfulHome.com, a national directory of home service providers.
5. Create a List of Pool Safety Rules 
Creating a list of pool safety rules is going to be of no use to a preschooler. And a sign posted in your backyard about swimming rules will likely be ignored by older children. So in addition to making the rules and posting them (which is good), make up the list and instill it into your children's heads—through constant repetition.
Include on the list such items as no running, no pushing, no swimming without adult supervision, no diving from the edge of the deck, no throwing of any hard objects into the pool. Here are swimming rules offered by FamilyEducation that you can include in your list.