By

Ha Van Dong
Posted in Travel
On October 28, 2019
Comments Off

on Explore Cat Ba National Park – An appealing destination near Halong Bay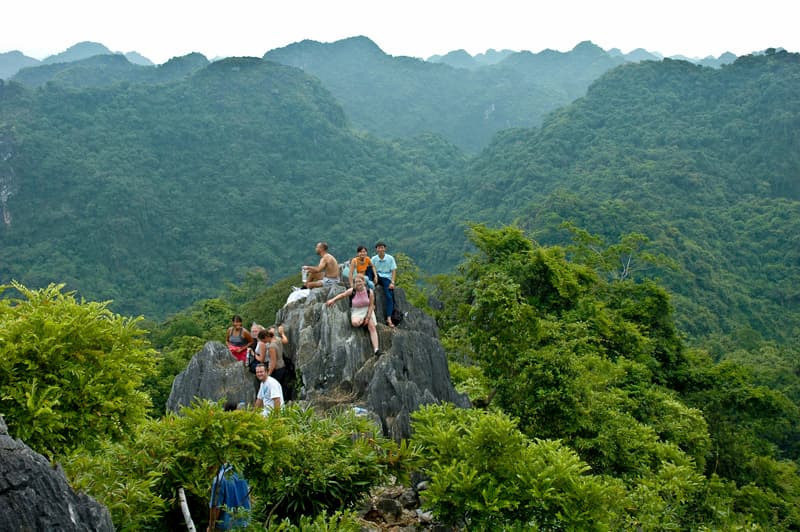 As one of the most famous spots in Cat Ba Island, Cat Ba National Park is worth visiting. It is an ideal destination for those who are into adventurous things.
So, why is this national Park so attractive? What can you explore there?
Read out our post below to know more!
Where is Cat Ba National Park?
Located right in the middle of Cat Ba Island in Lan Ha Bay, Cat Ba National Park is the essence of its home bay within a 152 km2 area. The thick forest and limestone karst ranges running throughout the park can also be found directly to the east in other Lan Ha Bay's destinations, and Cat Ba National Park offers a wealth of activities to get closer to the nature of the area.
Virtually every karst rock here is dressed head-to-toe in luxuriant green trees, giving the park a strong sense of vitality and health. Amongst the rolling hills of green, visitors will find a wealth of trekking paths as well as some of the 1,500 species of plant and 282 species of animal.
Cat Ba National Park is the home of one of the enduring symbols of Lan Ha Bay – the golden or white haired langur – an incredible species of monkey that has been listed as critically endangered.The few langurs that remain have found a home in Cat Ba National Park amongst the forests, caves, lakes, waterfalls and streams that give the region its immense natural beauty. The park encompasses the entire eastern arm of Cat Ba Island as well as many of the islands standing in the bay itself.
Exciting activities in Cat Ba National Park
Take a walk to Ngu Lam peak along one of the many trekking routes winding through the forest. These provide trekkers with fantastic options to view the immense beauty around them and in the case of Ngu Lam, below them, as this popular 1 – 1.5 hour return route scales Ngu Lam peak and presents sweeping vistas of the phenomenal nature laying on all sides.
Check out Frog Lake and Viet Hai village on a 12km trek through undulating greenery. Relax at Frog Lake, a wonderfully calm lake that creates an upside-down world of trees from its reflective surface. Push on to the village of Viet Hai afterwards; this is a beautiful locale where the ancient way of life still prevails in the face of modernity.
Go bird watching for some of the 205 bird species in the park, including 14 classified as rare. These range from small birds like starlings and hill mynas to large ones such as barn owls and kites.
Try your hand at deep sea soloing; certainly one for adrenaline junkies. Deep sea soloing is essentially free-climbing rocky cliffs with the water below providing your only insurance if you fall. The rock walls in many of Lan Ha Bay's destinations provide excellent climbing opportunities, but the only place where such an activity is available is Cat Ba National Park, and a few sports companies have jumped at the opportunity to take people there.
How to get to Cat Ba National Park
The park takes up vast swathes of Cat Ba Island, but its only official entrance point is directly in the middle, 13 km away from Cat Ba town.
By motorbike 
The freest, easiest and most beautiful way to get around Cat Ba Island is by motorbike, which can be rented out from many places within the town for rates around $5 per day. About 30 minutes of driving through the lush wonderland is necessary to reach Cat Ba National Park from town and bikes can be parked for about 5,000 VND ($0.20 USD).
By taxi 
A more costly but safer way to reach the park is via a taxi from the town, of which there are no shortages given that the island's public transportation system is essentially non-existent. 
Don't arrange your price before getting in the taxi, as drivers might give a heavily inflated price and then refuse to budge from it. The best option is to use the metre and do the same for the return journey.
By bus 
Though the bus system is not well-advertised, it does exist, and it can provide simple and cheap access to Cat Ba National Park as well as many other places if you manage to find it. Ask at one of the information desks in town to receive the timetable and accurate information about the locations to which it can take tourists.
Best time to visit 
The park is one of the evergreen destinations of Lan Ha Bay that remains beautiful no matter in which season you visit it. This spot is included in most of cruise tours in Lan Ha Bay. Spring and autumn are conventionally the two best though, as this is when the lack of rain and the abundance of clear skies give visitors excellent views from the tops of peaks around the park. 
Ideal trekking temperatures in the low 20s also aids visitors as they tread the forest floor.The mist that rolls through Halong and Lan Ha bays during winter can provide a thick grey screen mere metres away from your face. 
Though this hampers views from the peak, the haze bestows the park with a more Jurassic-era feel with silhouetted trees and mountains in the background. Colder temperatures in winter may be ideal for trekkers who would prefer levels around 15° – 20°C (59° – 68°F).There are few people that can trek through the height of summer in Cat Ba National Park, which can reach the later stages of the 30s around June, July and August. Along with this comes the prevalence of the rain, which often makes treks virtually impossible as the Vietnamese wet season gets into its full swing.
1. https://www.theedgesearch.com/2019/10/what-to-do-in-halong-bay-in-different-time.html
2. https://mybeautifuladventures.com/2019/10/24/top-5-luxurious-cruises-in-halong-bay-for-your-upcoming-trip/
3. https://www.rewardbloggers.com/blog/2745/the-5-best-choices-for-places-to-stay-in-halong-bay
4. https://fantasticroutes.com/the-best-ways-to-explore-halong-bay/
5. https://www.mindstick.com/Blog/235815/the-most-beautiful-beaches-in-halong-bay