By

Ha Van Dong
Posted in Travel
On November 13, 2019
Comments Off

on 7 Places to See When Visiting Cambodia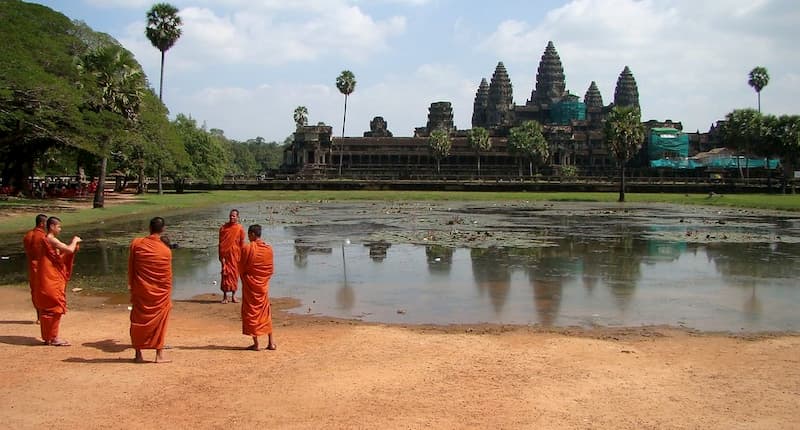 Located at the heart of Southeast Asia, the Kingdom of Cambodia is more commonly known as Cambodia. Full of low-lying plains, mountains, and historical temples, Cambodia is home to a wide array of tourist attractions that won't disappoint even the most experienced traveler.
From the rich waterfalls of Phnom Kulen to the most haunted places of Kampong Cham, here are seven places to see when you visit Cambodia.
1.   Angkor Wat
The largest religious monument in the world is located in Cambodia! Built during the early 12th century, this Hindu temple expressed the former king's devotion to the deity Vishnu (the Hindu god of preservation).
It thrived until the early 15th century when the Angkor empire collapsed. Researchers believe that the structures were damaged due to merciless monsoon rains that followed a long drought in the region, which damaged the city's infrastructure until it eventually collapsed into ruin.
Angkor Wat is one of the seven wonders of the world and a UNESCO World Heritage site, so it's a no-brainer to see the ancient Khmer 402-acre empire.
2.   Kampot
Located a few hours outside of Phnom Penh, the riverside town of Kampot is far from boring. Filled with good food and outdoor adventures, here are some things you can do in Kampot that'll make the trip worth it.
Renting a bicycle is inexpensive and can get you around the fairly large city center at a quick pace where you can check out the historic fish market that was built all the way back in the 1930s.
If your need for speed needs to be satisfied, gear up and rent a motorbike to visit Bokor Mountain 40km away from the city center. You can check out the abandoned Bokor Palace Hotel and the nearby Catholic church if you feel like spooking yourself in the daylight. You can even glimpse a giant 29-meter statue of Lok Yeay Mao, ancient mythical heroine and Buddhist divinity.
Tired of land? No worries because Kampot supplies for your every need. Rent a kayak and work out your upper body! A favorite escape into nature, you can explore the Green Cathedral which is filled with a canopy of green that covers you as you paddle through narrow channels that surround a small island in the river.
3.   Sihanoukville
Kick-off your hiking shoes and trade them in for some flip flops when you head for Sihanoukville. Lined with rustic beaches with the finest grain of sand, you'll be lounging in your very own version of paradise.
Now packed with casinos and clubs, travelers can pencil in Sihanoukville as their rest stop to decompress from the tiring day. You don't have to go far to scratch off "tan by day, party by night" on your life bucket list.
4.   Phnom Kulen
Eat, pray, and love your way through Southeast Asia by visiting the mountain ranges in Phnom Kulen. Meaning "Mountian of the Lychees" in English, this destination is a favorite by locals and tourists alike and has everything you could ever ask for.
From picturesque picnic spots to sacred temples nearby, Phnom Kulen is said to be the birthplace of the ancient Khmer Empire, where King Jayavarman II declared Cambodia's independence from Java.
5.   Kampong Chhnang Ghost House
While Cambodia is most popular for its shrines for divinity, it is also home to haunted places where angrier spirits wait. Now a shrine for the superstitious, Kampong Chhnang has its infamous Ghost House located on National Road 5.
The history of Ghost House contains a frightening story and became the plot of the film The Haunted House released back in 2005. According to the urban myth, a couple bought the house but a ghost visited them in a dream, offering gold to get them to leave. When the couple awoke, they found the promised gold at their front door.
Despite this, the couple decided to stay, which ended up angering the ghost. When the couple awoke the next day, they found themselves in the middle of a field with their belongings. The house has remained empty ever since, with no signs of being abandoned as there's a mysterious absence of dust.
Today, Cambodians leave offerings at the entrance or say prayers whenever passing the Ghost House. When The Haunted House was shot at the actual site, cast and crew members said Buddhist prayers to ask the ghost to leave the house while they were filming.
6.   Mondulkiri
Home of the Mondulkiri Project, every traveler needs to make a trip to the Mondulkiri Elephant & Wildlife Sanctuary. A local conservation and environmental protection NGO, this sanctuary is known for its elephant retirement program.
Home to 41 domestic elephants left in the province, the sanctuary alleviates the elephant's owners of the pressure to sell them to tourist elephant camps, where they will receive subpar care.
The retirement program at Mondulkiri lets the elephants roam free while providing for their every need. These Cambodian elephants were recently freed from intensive labor in illegal logging, farm work, and tourist ride industry.
7.   Cardamom Mountains
Experience one of a kind flora and fauna by trekking the Cardamom Mountains! It's one of Asia's most expansive wilderness and can be found in southwestern Cambodia.
Home to more than 25,000 ethnic minorities, the Cardamom Mountains is rich in history as well as its biodiversity. You can get up close and personal with the wildlife in this tropical rainforest by arranging a tour with Wildlife Alliance or Phnom Tamao Rescue Centre.
If you plan to spend the night immersed in nature, villagers at Chi Phat are offering homestays where visitors can live like a true Cambodian local.