By

Ha Van Dong
Posted in New
On January 31, 2020
Comments Off

on Tips for designing your office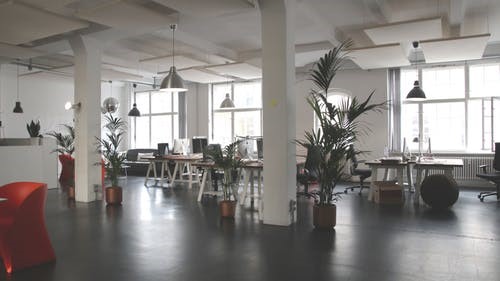 We spend too much time in the office. We plan our meeting and organize and implement our strategies, and so many of us are "suffering" in the office, due to improperly arranged space. Unfortunately, in most cases, we have to work where we have been given a workplace. And we can assume that you are very lucky if your management is aware that the efficient use of the workspace and well-arranged office furniture are of great importance in the overall efficiency of the employees. If you yourself are going to equip a corporate office or a small office at home, then you need to keep in mind some considerations.
Design of your office is the most crucial factor in the success of your company. You can have a shabby place with a broken whiteboard to plan your strategies for carrying out the big plans you have for your company, or you can design an office that fits your style.
Make a list of your basic needs
Before you begin to select the necessary furniture, make a detailed list of your most pressing needs in the office. This list should contain all the elements of office utensils that may be useful to you, such as a computer, fax, printer, phone, shelving for documentation, shelves for storing papers and so on. When creating a list, think about how you plan to use the office. If you are a graphic artist, you may need a place for a computer and a large workspace for your work. If you are a consultant, you may need additional cabinets for storing and protecting confidential documents, as well as a place for meetings with clients.
 Choose your location
If you are in a corporate environment, most likely your location has already been determined, but you still need to think about how best to use this space. Pay attention to the location of the windows, the entrance and placement of outlets. In the best cases, the table should be located "facing" the door, with maximum natural light. In the home office, you can be much more flexible, and you can even organize it in the corner of your bedroom. Make sure your home office is away from potential distractions such as the kitchen, places of constant movement, or noise. You can also use the space in the pantry or at the end of the corridor. The important thing is not the place, but the fact that you have a permanent space that is designed to work.
Furniture for the reception
The first thing that a person entering the office sees, whether it is an employee or a client, is the reception. Therefore, we can safely say that the reception is the face of the office. And that is why it is very often spent more effort and money on organizing a reception desk than on any other office space. When organizing the reception area, it is necessary to take into account the space and the number of employees who will work for it. The "classic" reception desk often has an add-on to protect the workspace from prying eyes. Vending machines are often placed in the reception area, and they provide a special place for a coffee maker and much more. In the reception area very often have a waiting area in the form of sofas or a set of chairs. Also here you can place a wardrobe or a hanger for visitors.
Choose furniture for work that suits you.
Office furniture should be arranged so as to increase work efficiency. Keep electronic devices in sight. In addition to your computer and printer, think about your mobile phone, webcam, or speakers. A good workplace includes the absence of unsightly cords insight. The countertop must be strong so that you are not afraid to spoil it, at least leave circles on it from your morning coffee. Pay attention to the tables that have a place to store household items. If you have a system unit, then select a place where it will be kept clean, protected from dust and dirt. When choosing a computer chair, make sure that it has at least a lifting mechanism and a cushion under the back for appropriate back support. Believe me, and your back will be grateful to you.
Choose furniture that reflects your style.
Here you can allow yourself to be a creative person. Choose furniture that reflects your style. Can you find something traditional or vice versa modern? Wooden furniture looks more conservative and is an office classic, while steel and glass components are more modern. A professional office needs a uniform style, so choose one series of furniture where tables, cabinets, chairs and other elements are combined with each other.
Errors that you might make
Using a variety of furniture
Young entrepreneurs rarely equip offices in a classic style. It is expensive and not always appropriate. Most prefer open floor plans, with conditional division into zones, but they need to be able to beat with suitable furniture. The variant with variegated products is the most losing one since it's quite difficult to combine and look for a fine line between the original and the tasteless. In the absence of experience, it is better to use ready-made sets consisting of cabinet and upholstered furniture made in a single style key.
The choice of products that do not match the dimensions of the room
A common mistake among successfully functioning, and new offices is that the furniture is an adequate combination of the desired and the possible. A large table will not decorate a small office, and a cabinet to the ceiling will not add solidity to a narrow reception room. An individual layout that takes into account the peculiarities of space is the right approach, regardless of the available area.
Placing a large amount of furniture
An office is primarily a business space, and an excess of furniture disturbs its dynamics. If multiple housing elements are necessary, they must be modernized in accordance with ergonomic rules, and not arranged in a chaotic manner, disrupting the business atmosphere. Modern furniture production easily copes with such tasks, replacing bulky designs with spacious and compact items.
Cabinets for files and supplies.
Do not forget about other elements that your office needs. A large table is good, but if it is littered with documents and supports, it does not contribute to the work. Use drawers and cabinets to store files so that everything is neat and organized. Mobile file cabinets provide flexibility as well as an extra workspace. Lockers may be required to keep your papers safe. If your office is low on space, try using hanging shelves.
Conclusion
In order to create an effective office, everything must have its place. In modern office furniture, there are a large number of components that provide maximum flexibility in this regard, which allows you to combine work at the table with cabinets and other elements and customize your office for your needs. If you have a place for all this, then use it! Pay attention to the details during the installation process in your office, and you can make sure that you have created a space where you really want to work.