By

Ha Van Dong
Posted in New
On May 27, 2019
Comments Off

on YouTube Video Editing Made Easy
YouTube video editing can set your account apart from the rest and give your views a boost while pulling in new viewers and expanding your audience.
With 1.8 billion users visiting YouTube every month, this site is a dominant presence. Lots of people are uploading videos, but viewers want and expect high-quality content. Poorly edited or even un-edited videos will fail to draw views and can have a negative impact on your channel. Make your YouTube videos stand out by following these essential steps for video editing.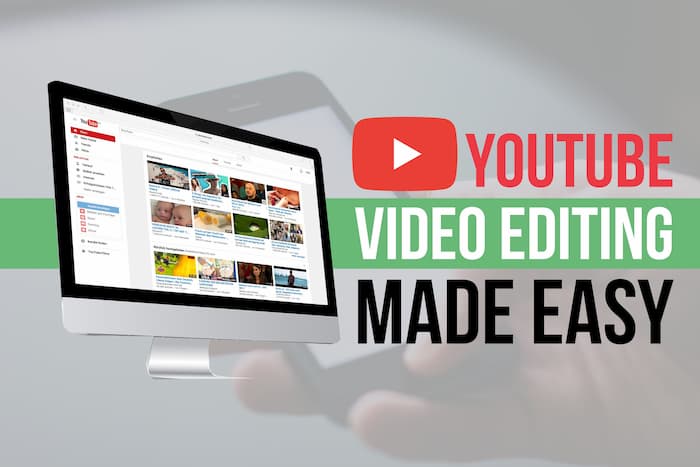 Getting Started
Editing actually starts during filming. How you film your video can majorly influence the amount of time and effort needed in editing. When shooting videos keep the editing part in mind. Try to shoot with different angles. Don't forget to shoot tons of B-rolls to spice up your video in editing. Once you complete the filming portion go through these steps to ensure your YouTube video is ready for your audience.
Upload Your Footage
The organization plays an important role in YouTube video editing. Create one main folder for every video and then create sub folders for A rolls and B rolls. As you upload content, immediately save everything in these folders. Organizing everything from the start makes it easy to find exactly what you are looking for while you are editing and even later. Backing up your data like this also ensures you will be able to find what you need if you need to re-cut the video later or use this content for a different project.
Label and Sort
Review clips and rename them as needed. Again, this will work out to be a significant time-saver in the future. Select the good takes and drop them in one folder and move duplicates to another folder. You can create however many folders you want or need and label them accordingly to help you stay organized. The goal is to have every clip accurately named and placed in the proper folder for easy recall and locating.
Prepare Your Timeline
Once your video clips are selected and renamed, import them in timeline. Organize each clip into the proper order and be on the lookout for anything to change. This is the time to remove all filler words, like 'ums' and 'ahs', unless they serve a purpose and belong in the video. Do add jump cuts, J cuts and L cuts to give your video polished look. Don't overdo this, try to keep all cuts subtle and well thought of. There is nothing worse than an abrupt cut between a smoothly playing video. This applies to anything from vocals, montages, to music tunes.
Add Visuals and Sound Effects
You have almost unlimited options to add titles, intros and transitions. Remember, sometimes less is more. Effects help make your video look professional and polished. Adding text can help relay information or make a point, while sound effects can increase viewer engagement and add an increased entertainment value. There are a million ways to add transitions, effects and titles. Remember to include your logo and other branding info, so your audience knows you are behind the video and it cohesively fits into the look of your brand. Check out video editing service Vidchops for premium transitions, effects and stock videos and audios.
Mix Sound
Poor sound quality can be a deal breaker. Viewers likely will not stick around if they are unable to hear what is happening in the video. Although, audio that is too loud can be frustrating for viewers, as well. Check your audio levels for each element. Play the audio without video and see if there is anything to fix. Also make sure the audio is of the same or similar frequencies as a video that begins softly for example, and then suddenly becomes loud and ultimately soft again, will be seen as average if this exercise does not suit the video imagery. On a side-note, adding additional sounds to your video that complements as well as helps the viewer to better understand what's going on can boost your video. For example, adding the sound of raindrops if the visual shows a person near an open window, or footsteps that go with a person walking etc.
Colour Correction
Adjusting the color is a minor change that can have a major impact. Color correction can literally and figuratively set the tone for your video. Whether you want it to look like a glossy Hollywood production or a dark film noir, color correction can make it happen and give your video a professional edge. When adjusting the color think of your brand and consistently choose settings that fit your brand's image.
Call to action
Add call to action CTA to your videos. There are many types of CTA that you see in YouTube videos. Most important are asking viewers to subscribe to your channel, like and comment and share your video. Try to add first call to action in first minute of your video. Then like and share call to actions and in middle of the video do ask your viewers to comment about the video.
Take full advantage on last 20 seconds of your video, this is your time to ask you viewers to watch your next video or follow you on other social media channels.
Final Check
Watch the video with a focus on the rhythm and tempo. You want to make sure all of the transitions and effects are nicely placed with the music and pitch of your video. Remove any unwanted lines and effects and make any other changes that improve the overall quality of the video. After you have made these final edits and adjustments, watch the video from start to finish in order to confirm everything is perfect.
Export Video
Review the video a few times to make sure that you're satisfied with how everything looks and sounds, then prepare to export. Once everything looks great and is ready to go, export your masterpiece and upload it to YouTube. Make sure to give the video a title and that all of the settings are correct so your viewers can start watching, commenting and engaging with your video.
Thumbnail
YouTube custom thumbnails are very important and it's not me who is saying this. YouTube itself states in a report that "90% of the best performing videos on YouTube have custom thumbnails."
Don't forget to make nice looking thumbnail. If you are not very familiar with photo editing apps like photoshop then Canva would be a great option for you. Thumbnail would be the first thing that will drive viewer attention to your video on YouTube so try to be little creative here.
Following these simple step-by-step guide greatly simplifies the YouTube video editing process. Taking these steps in order ensures you take on everything that needs to be handled in an easy and logical order, so you don't duplicate your efforts. The end result will be a high-quality video that appeals to your viewers and quickly gains views while increasing engagement with your brand.