By

Ha Van Dong
On February 23, 2018
Comments Off

on How to Use a Leaf Blower Safely and Effectively
Leaf blower is a powerful cleaning machine. Now here, someone new to the product might find it difficult to figure out what exactly a leaf blower is. Let's get an idea from the scratch about this wonderful garden equipment.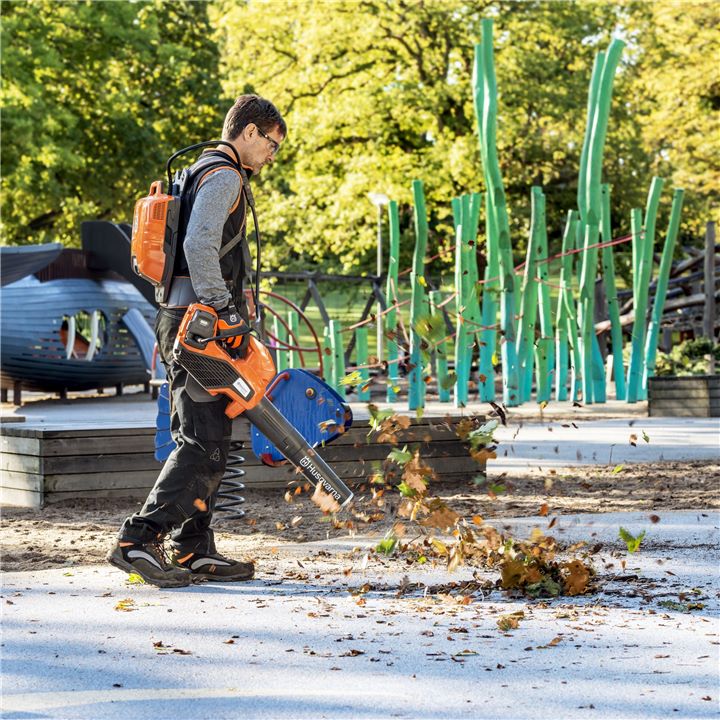 Leaf Blower Applications
They are mostly used in regions where mature and immature trees give us a natural quilt of leaves. They are required more frequently during spring, summer and fall seasons. A lawn rider does decent job of cleaning up the leaves but leaf blower clears every nook and cranny of a place. It saves you a lot of time and labor. You can also use a leaf blower for cleaning parking lots, removing dust from farm, vacuuming up light snow, and scattering water gathered on the driveway.
Types of Leaf Blowers
There are various types of leaf blowers:
Electric blowers: -There are two types of electric blowers – cordless and corded electric blowers. Both are lightweight. A cordless leaf blower is easy to handle since there is no cord attached to it. You can use it in different places. However, you need to ensure that the battery is charged enough to last for the duration of intended use. In case of corded blowers, you need not worry about the battery getting drained off since you would be plugging them in a power source. However, you need to be careful that the cord does not get tangled around plants and bushes.
Gas-powered handheld blowers: – They are little heavier and louder and require fuel or oil to work. They emit smoke.
Gas-powered backpack blowers: – These are heavier and more powerful than handheld blowers. They are mostly useful for large areas and higher volume of work.
Gas-powered wheeled blowers: These are the most powerful of all and recommended for commercial use. The power of one gas-powered wheeled blower is equivalent to pushing around a lawn- mower.
Overcoming Risk Factors
Use of leaf blowers requires lot of safety to overcome risk factors associated with them. When the leaf blower is set on, the volume of air emitted from it contains so much of power that it can blow away heavy debris, wet leaves, and twigs lying around in the grass. There are indications on gas powered leaf blowers about the strength of the equipment which is given in terms of CFM – cubic feet per meter, MPH – miles per hour of the air that moves out of the tube and CC – engine size in cubic centimeter. Db. indicates the decibels of sound at 50 feet per ANSI measuring regulations.
An average leaf blower reaches up to 75 decibels whereas the recommended sound limit by WHO is 40 db. Electric leaf blowers are highly recommended for less noise and no pollution. Try wearing ear muffs while using high decibel blowers to avoid damage to ears. It's equally important for the residents nearby to take care of the noise pollution they create.
Leaf-blowers operate with a high velocity, often making heavy debris, leaves, and dust to fly high, which may be dangerous for operator's eyes as well as animals, pets and people around. It is essential for the operator to wear goggles or specs.
As the work involves dust and debris, it's important to take care by wearing long pants, gloves, mask, and long-sleeved shirt to avoid any cuts, wounds, burns and inhalation of harmful matter in the process.
Never leave the machine unattended when it's running. Avoid using the machine for any other purpose that involves use of chemicals.
If it's raining and the ground is wet, avoid using the equipment till the rain stops and the ground is dry. This is because the wet leaves may produce more work and more power; it may harm the blower as well.
Using Effectively
Never point the blower towards people, pets, cars or house windows.
Follow local rules and operate courteously.
Use lowest possible throttle speed.
Keep in mind that you don't need a very powerful blower for a small yard. Buying a less powerful blower sufficient for your intended use also minimizes the risk factors to a great extent.