By

Ha Van Dong
On March 4, 2018
Comments Off

on How To Stop Underutilizing Your Steam Cleaner
If you have purchased a steam cleaner and you feel you are not putting it to its best use possible, you've reached the right page. First of all, you are not alone in this. Most people are pretty clueless as how to squeeze everything they can out of their machine. If you have already discovered a few clever ways of using your steam cleaner for your floors, why not add some extra ideas to the list? Here are a few clever ways of using a steam cleaner to have a sparkling clean house.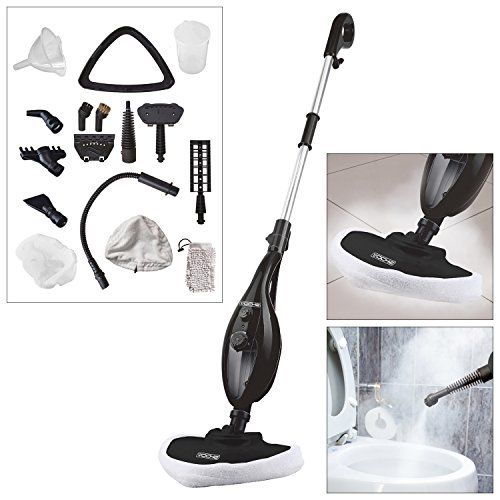 How To Use A Steam Cleaner The Clever Way
Clean your bathroom and kitchen tile and grout more thoroughly than ever with the help of your steam cleaner. The great advantage of this method is that you will not need to use any hard and harmful cleaning substances. You solely need a wire brush attachment for your steam cleaner and some steam to take away grease and grime. Get the pee stench out of your bathroom by using the steam, and the dirt should magically disappear from all the crooks and crevices. No more scrubbing endlessly for hours in a row down on your knees.
Use your steam cleaner to have your dirty mattress look brand new again. Since you cannot shove it in the washer, this is an excellent cleaning alternative.
Your oven can also benefit from the wondrous effects of steam. If you are allergic to commercial oven cleaners and the harmful substances in them, you can rely on your steam cleaner and rapidly get rig of all the stubborn grease and dirt.
How often would you say you clean your baseboards? If it happens once a year, you are not alone in this. But it doesn't mean it is a good thing. If you also have pets, you should most definitely take care of things a lot more often. If you never imagined using a steam cleaner for your baseboards up until this very moment, you're welcome.
You can also find use for your steam cleaner inside the kitchen. Use it to clean your grill with it. You will need to use the wire brush attachment and be patient – you'll have a grime-free grill soon enough, waiting for your stakes and hamburgers. You can also clean your microwave inside and out with the help of steam. It should get you rid of the grease that is hard to clean; but you can use it for the rest of your kitchen appliances as well, including for fingerprint cleaning.
If you ever need to remove some paperwall off your walls, try using steam to loosen the paper after scoring it.
If you have pets or small children, you can steam clean their toys and get rid of the nasty germs.
Don't Have A Steam Cleaner?
No problem! Get in touch with a good NYC steam cleaning service in your area and schedule an appointment; they should provide you with free estimates and the full range of steam cleaning services for residential customers. On Time Steam Cleaning is an experienced steam cleaning company serving the needs of people in the New York, New Jersey, and Connecticut areas. They charge affordable rates and they use eco-friendly cleaning methods on top of their premium solutions.