By

Ha Van Dong
Posted in New
On August 5, 2018
Comments Off

on HOW TO DESIGN A NURSERY: DOS AND DON'TS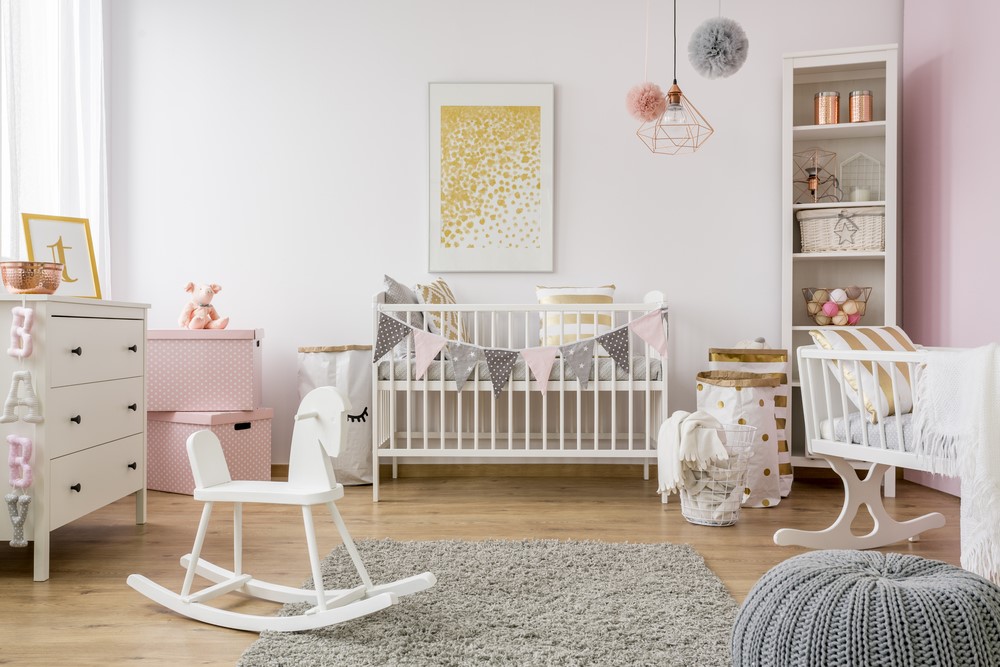 A little human is soon to be a part of your life. The news has filled you and your loved ones with eternal happiness. You wish to prepare yourself and your house to utmost perfection before you welcome your little angel into the world.
Becoming a parent is a responsibility that is both terrifying and yet wonderful. And planning to design a nursery for your to-be-born baby is a step towards that responsibility.
If you're becoming a parent for the first time,  this project may seem overwhelming and unnerving to you.
Designing Your Dream Nursery
We are here to help you and inform you of the essential things you need to do and not do in your nursery while also share the experiences of other parents.
The Theme
So you want to build a nursery, but you don't know where to start?
Well, It's always a good idea to choose a theme for the baby's room before you plan on any other purchases.
If you know it's a boy or a girl, then following a theme will be the least of your problems. However, it doesn't always have to be a decision of genders. You could opt for a unisex theme too.
The Play Of Colors
Now that you have chosen a theme, go for corresponding colors to match your choice. Pink and blue colors are girls and boys are just so mainstream. Try being a little more creative or go monochrome with minimal hints of color.
Textiles Before Paint
This is important. Choose the textiles before you come up with a color theme for the walls. The baby furniture, bedding, curtains, mats, everything needs to go hand in hand and complement each other.
Fix a Focal Point
There could be a certain wall, furniture, corner or anything that you would want to focus the nursery on.
People tend to use the crib as a highlight or feature a corner of the nursery where the parent and the baby can spend time together to bond.
A nursery is incomplete without a rocking chair along with some blankets and baby books.
Remember the Ceiling
Newborns can barely turn to their side when placed in a crib. The only place they keep staring at most of the time is the ceiling.
We often pay less attention to the plain white ceiling. Why not make the ceiling a sky full of stars that glow, or a cute rainbow from care bears?
A Nursing Station
A nursing station is an essential space in the nursery. You'll be changing diapers and spoiled clothes now and then. Choose a comfortable baby counter where the baby remains safely placed while you do the nursing.
Every necessary product should be at your arm's reach. Don't even think about leaving your baby to look for something else as they could roll over anytime and cause a grave mishap.
Finding And Storing Clothes
You will need baby clothes all the time. Keep a separate basket to store the ones that need to go for laundry. Label each drawer for specific clothing such as socks or onesies.
Also, keep track of outgrown clothes. Remember to store them away before they get mixed up in a pile of new clothes. For storage, you could decorate or get creative and keep handmade items for your little one.
Keep Space For New Things
That baby crib you love so much will soon need to be replaced with a toddler bed. Allocate some space in the nursery for future furniture.
As your baby grows, the furniture will change along. So keep that in mind before you invest in a large nursing table that you won't need later on.
Windows Are Important
If there's a window right next to or above your baby's crib, then it deserves a lot of attention than you would have thought. First of all, make sure your windows are safe and baby-proof.
Invest in heavy curtains that mimic darkness. This would allow your baby to fall fast asleep. Light curtains would allow maximum sunlight which could be disturbing for the baby's sleep.
Avoid Harsh Lighting
Harsh lighting inside a nursery is not recommended. It doesn't have to be very dark either. A well-lit room with a balanced light spread out everywhere works well.
The Nightlight
Make sure there are side lamps or other sources of soft and warm light that works for the night. Nightlight would change the ambiance of the room and make your newborn feel comfortable.
Stocking On Necessities
You will always need diapers, wipes (lots of them), soft tissues, and other hygiene products for the baby.
Imagine running out of diapers when your newborn soils their pants while you need to run to the store for repurchasing.
It also doesn't mean you need to make your home an inventory to stock products. Just keep them sufficient for a month.
Baby-Proof the Nursery
Don't think you will have all the time in the world until your baby begins to move on their own. Start baby-proofing the nursery just as you plan to design it.
No electrical cords or wires should be exposed. Keep any sort of medicines or ointments out of their reach. Store the hygiene products above their reaching capacity.
Final Words …
Plan your nursery designing well ahead of time because you might not have the energy to do so later on. It will take days to set and prepare everything so have patience.
We know you're excited to welcome your baby to their new room and make them feel special. Don't worry; you'll be an awesome parent, all you need is bestow your utmost attention and affection to your little one.
Author Bio:
Stepheny is a content writer at Feedfond. A prolific writer and speaker and an absolute doting mother to her two children, she's one of a kind. If you wish toread more of her work, visit Feedfond.com.