By

Ha Van Dong
Posted in Travel
On September 22, 2019
Comments Off

on Foods You Have To Try When Visiting Florence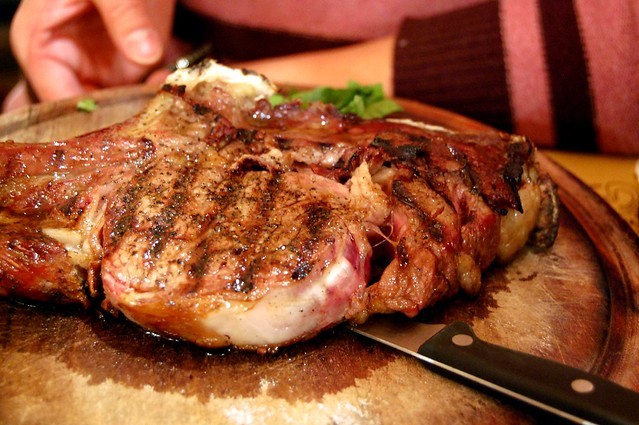 There is no corner of the world where people do not appreciate Italian food. However, what many do not know is that every single region in Italy is specialized in some sort of food. Foodies simply love Italy and often visit to enjoy tasty dishes that cannot be experienced anywhere else.
Florence is one of those Italian cities that foodies always recommend. Its medieval history strongly influences Tuscan and Florentine cuisine. Also, dishes cooked here are simply better than when you cook them at home as restaurants always use local ingredients like rosemary, truffle mushrooms, oregano, olives, tomatoes, cheese, bread, meat and more.
Food tours in Florence are definitely a treat but what can you expect when you join one? If you can choose, be sure to choose those tours that allow you to experience the following dishes.
Bistecca Alla Fiorentina
This is by far the most famous dish in Florence, the Florentine Steak. You would practically enjoy a really large T-bone cut that can weigh anywhere between 1 and 4 kilograms. It is fine grilled and the inside is pink and bloody. Seasonings used include pepper, salt and lemon juice. Traditionally, the dish is cooked over chestnuts so that the flavor ends up being smoky.
If you ask for a Florentine Steak, let the chef cook it as he/she wants to since this is a dish that is cooked in just one way. Also, remember the fact that it is huge so you may want to share it. Prices in the menu are normally per kilogram. The server will most likely bring the beef so you see it before being cooked. You need to approve it.
Pappardelle Al Cinghiale
Pappardelle is the name of a really interesting flat, wide and long pasta. It is normally paired with ragu or another heavy sauce. The dish has numerous variations when thinking about what meat is used in the sauce. Cinghiale practically means wild boar but the ragu sauce can be made with rabbit, goose or wild hare. If in Florence, try the option with wild boar since it has a really rich texture and flavor.
Gelato
Italy is obviously renowned for its gelato. Florence is special in this regard as it has tremendously tasty gelato. In the city, you can find many artisanal gelato options and flavor combinations that are unexpected.
If you want to try some gelato, avoid street sellers. They attract tourists with the use of artificially colored gelato, many garnishes and bright mixes. You want to go for the smaller batches. Also, when you see that the color is too strong, you want to walk away since it is not handmade gelato.
Lampredotto
Lampredotto can be traced back to medieval years when it was enjoyed by the common folks. In Florence, locals are divided since some hate it and others love it. No matter the case, you should make up your own mind. Lampredotto is a sandwich that is made with the use of sliced tine tripe boiled in broth and seasoned. It is served in a sandwich or on a plate. It can be ordered with herbal green sauce, bagnato or spicy red sauce from the outdoor markets. You can even find street vendors selling lampredotto.
Tagliatelle Funghi Porcini e Tartufo
You can find this dish almost everywhere in Florence. It is made out of 2 local ingredients, porcini mushrooms and truffle mushrooms. The tagliatelle is thin, flat, long pasta that can come in various sizes. Pasta is then tossed in a mushroom sauce and vegetable pieces created a great texture. Combining these two mushrooms is really flavorful, creating a simple dish that is very tasty.
Crostini – Antipasto Toscano
This appetizer platter comes with assorted bruschetta types. Bruschettas are Tuscan bread pieces that are topped with various purees, vegetable salsas or sauces. A traditional Antipasto Toscano is practically chicken liver pate that is put on top of Tuscan bread. You should also order some tagliere, which is a cheese and Tuscan meat board. Obviously, you can easily try any mix you can find. This starter is usually served before dinner in Florence but you can enjoy it in restaurants at any point of the day as an appetizer.