By

Ha Van Dong
Posted in New
On June 27, 2018
Comments Off

on The Most Amazing Golf Course Destinations in Hua Hin, Thailand
Thailand has long been one of the most preferred holiday destinations for tourists from all around the globe, and quite rightly so.
Not only has it some of the most breathtakingly beautiful beaches in the world to offer, but some of the most amazing golf course destinations in Hua Hin, Thailand are right at your disposal to make the most of your holidays.
This has not only served to cater countless tourists every year from across the globe, but has also contributed significantly in nurturing Real Estate in Thailand, Hua Hin. People feel as confident in investing in real estate industry of Hua Hin as they feel rejuvenated in enjoying Hua Hin as a world class tourist destination for golf lovers.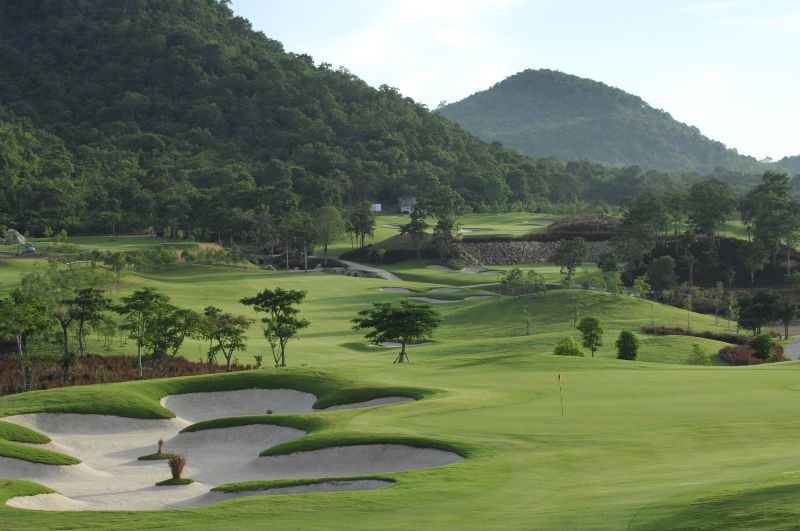 Another great thing about Hua Hin is its convenient access. You can reach Hua Hin from Bangkok in about 2.5 hours, getting a superb combination of some great shopping and even greater golf experience in the scenic Thailand.
While no amount of words can do justice to the most amazing golf course destinations in Hua Hin, Thailand (only visiting here will reveal the true beauty and charm of the place), they still need some introduction. So, let's have a look at some of the most popular golf course destinations in Hua Hin, Thailand:
Banayan Golf Club
Winner of the Best New Course in Asia Pacific (2009) as awarded by the Asian Golf Monthly, Banayan Golf Club commenced in October 2008 in Hua Hin, claiming the award within a year of its opening; an extraordinary achievement to say the least. Another distinction this top class golf club holds is that it is built within a former pineapple plantation and ever since its inception, its scenic views, world class golf facilities, clubhouse and highly professional staff have collectively helped it claim its position among top 3 golf course destinations in Asia. Moreover, it has also been featured in the prestigious 'Rolex Top 1000' in the World.
Black Mountain Golf Club
Accessible through a 24 minutes' drive west of Hua Hin, Black Mountain Golf Club deserves its rightful place among the top 100 golf courses in the world. It has been transformed into a highly decorative golf course from pineapple plantations and lush jungle, turning into a scenic marvel luring flocks of tourists from all over the world. Overlooked by gigantic black granite mountain tops, it is located in a serene valley. All these attributes (and many more) enabled this golf course to host Asian PGA tour events (2009-2010) and a Royal Trophy match in 2011 (Asia Vs Europe).
The Lake View Resort and Golf Club
If you are looking for a 36 holes golf course in Hua Hin, look no further than the Lake View Resort and Golf Club. Surrounded by small farms and fruit orchids, it is situated a little inland and adored equally by the locals as well as visitors; it is surely one of the most picturesque golf course destinations in Hua Hin. It also served as the Asian Tour Q-School venue in 2016.
Majestic Creek Country Club
A famous German golf magazine has rated the Majestic Creek Country Club as one of the best golf courses in Hua Hin, located scenically within the hills west of Hua Hin. It catches equal attention from the locals as well as expatriates to offer the best of golfing and holidaying experiences.
Palm Hills Golf Resort and Country Club
Beginning its journey in 1992, the Palm Hills Golf Club has the honor of being the very first international standard golf course in Hua Hin. Its high quality standards helped it host the inaugural Thailand World Pro-Am tournament the following year. Located between Cha Am and Hua Hin, it can be found among the lower foothills above the town, quite near the local airport.
Royal Hua Hin Golf Course
Only at a 5 minutes' drive away from downtown Hua Hin, Royal Hua Hin Golf Course is considered to be the very first 18-hole golf course of international standards. Established way back in 1924, it was originally developed to cater the requirements of the British railway workers along with the Thai aristocracy hosted in the area. That's why it can be still found next to the town's railway station.
Sawang Resort and Golf Course
If you like it away from the hustle and bustle of busy golfing resorts, Sawang Resort and Golf course accessible through 1 hour's drive from Hua Hin is what you should look for. It is present amidst the rice fields and fruit orchids of Petchaburi province neighboring Hua Hin.  
Sea Pines Golf Course
Also famously known as the Army Golf Club, Sea Pines Golf Course is located along the gulf of Thailand in the Sea Pine Tree Garden (locally known as Suan Son Pradiphat). The Royal Thai Army took charge of this serene and picturesque golf destination from The Royal Forestry Department during the rule of Sarit Thanarat, the Field Marshall as well as the Prime Minister of Thailand holding the area from 1957 – 1963.
Springfield Royal Country Club
Featuring the traditional Jack Nicklaus design, this unique golf course destination can be found off the Hua Hin bypass road, holding its place firmly among the best of the Hua Hin golf courses. Here, you get to play from a minimum of five tees as offered in each hole.
Kaeng Krachan Country Club and Golf Resort
Surely a treat for those who do not find much of solace in places bursting with people. This amazing golfing holiday destination is in Petchaburi province neighboring Hua Hin and you can reach here in an hour's drive from Hua Hin. High mountain ranges found on the western border with Myanmar add to the beauty of this fabulous resort for golf lovers and venture seekers.
Whether you are want to have the most awesome holiday season away from the rush of the cities, right within the lap of the nature, or looking to explore some new investment opportunities in real estate industry, the amazing golf course destinations in Hua Hin, Thailand offer you the best amalgam of the both. So, make sure to check it out for yourself and give yourself a treat, one that returns you the best in enjoyment as well as in investment returns.