By

Ha Van Dong
Posted in New
On April 1, 2019
Comments Off

on 6 Basic Digital Marketing Strategies Business Owners Must Know
For a lot of business owners, a digital presence means hiring a web design services company to get a website. In today's connected world, it is essential for them to use the basic digital marketing strategies which can help them grow their business. Exploring all the options available in the digital landscape apart from their interfaces, like search engines and social media allows them to build their brand and move ahead of the competitors. Promoting business on digital channels lets entrepreneurs acquire in-depth knowledge about their audiences. It enables them to improve their products and services and create promotional messages that resonate in a better manner with prospective customers. In this article, we are presenting some fundamental digital marketing tactics that all business owners must know.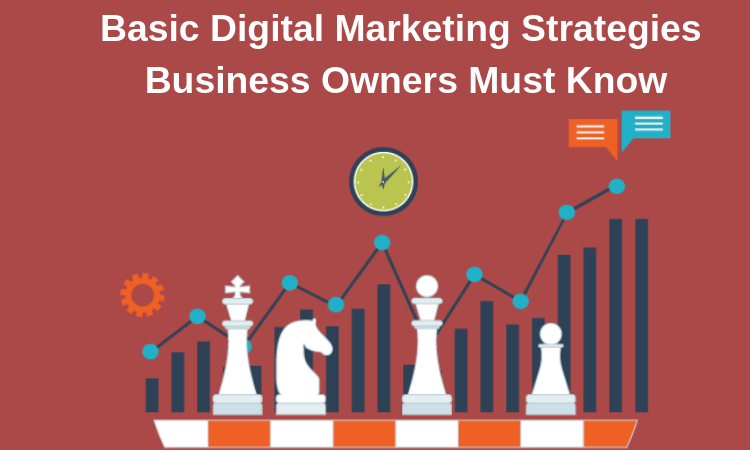 1. Website Must Reflect The Business Objective
Websites are not only meant for providing information about an enterprise. They can be used for completing a business objective like converting leads into customers or selling products. It is essential that the interface reflect the same objective which was kept in mind while creating a promotional campaign. For instance, if a marketing strategy has been made for generating leads, then the website must have a landing page for the purpose. When a person clicks on an ad or a link in a content, he/ she must be directed to a related landing page with a suitable call to action.
2. Search Engine Optimization
The best way to popularize an interface and drive organic traffic to it is by using search engine optimization services. These agencies make sure that the business website appears prominently in relevant search results. These experts take into account a variety of factors which can be broadly segmented into on-page and of-page elements for framing an effective strategy. The on-page elements are the HTML code and the content of the website which need to be optimized with keywords. The page loading speed and URL structure are also on-page factors. The off-page SEO involves building links with other authoritative domains of the industry. It also includes creating favorable brand impressions across various virtual avenues so that the website is considered as a reputable entity in its field.
3. Optimizing For Local Searches
Mobile devices have impacted the way searches are being conducted. More and more people are using these gadgets to look for solutions in their locations. This has made it essential to optimize a business' digital presence for local searches. Entrepreneurs must ensure that they have consistent NAP on all virtual platforms beginning with their website. The NAP refers to the name, address, and phone number of the business. They must also create profiles on Google My Business and local business directories. This will help the enterprise appear in relevant search results when a person looks for related services in the business' geographical location.
4. Content Marketing
Content marketing is one of the most important basic digital marketing strategies. It involves creating and posting content on multiple virtual channels. The content can be text, visual, or an audio material depending on the platform it is being published on and the audience it is aimed at. 
Content marketing helps the business
by allowing its brands to connect with their audiences and building relations with them. It is necessary to share material which is informative and solves a problem of the audience while positioning the brand as the best option to execute that solution. This does not mean that the tone of the content must always be promotional. Marketers must look to provide unique matter which arouses interest among potential and existing customers and engages them.
5. Social Media Marketing
Social media must be an integral part of the digital marketing plan of any business. A majority of people around the world are active on one or more social networks. This makes it compulsory for companies to have a presence on the channels frequented by their audiences. However, social media marketing is much more than creating profiles and regularly posting content to engage audiences. Brands must actively use display advertisements on platforms like Facebook to target clients. They must also get in touch with the top influencers of their industry. These individuals enjoy significant following because of their knowledge of a specific business sector. Connecting with them allows companies to reach a wider section of their target audience who are likely to convert.
6. Mobile-friendliness Is Imperative
Mobile devices are being used not only for communication but also for conducting financial transactions. Online shopping has grown leaps and bounds because of the popularity of smart, handheld gadgets. It is imperative that the digital marketing strategy of a corporation be mobile-friendly in nature. The business website must be responsive so that it is easily rendered on all devices. Moreover, owners must take care of some small but vital details. For instance, making their phone numbers clickable wherever they post them. This will help mobile users instantly dial the numbers.
Conclusion
These are some basic digital marketing strategies which must be employed by all business owners. The tactics will help enterprises create a strong presence across numerous platforms which will give them the benefit of improved user engagement and better sales.
Author Bio
Jacob Graves is a Web designer by profession and he works for a firm which provides ecommerce website development Vancouver – FernWeb. He uses to write useful tutorials on Web design and socialize its different social media platforms.
Content is interested: